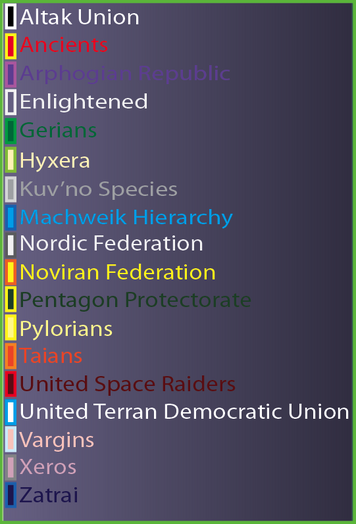 Welcome to the encyclopedia of knowledge for everything in the Sagittarius-A RP stored here.
The Sagittarius-A roleplay is a roleplay started by oZode april 1st on the minecraft forums that involves space. Lots of it.
Feel free to add to this wiki anytime, but if you made stupid articles, we will know.
Check it out: Sagittarius-A
Sagittarius Help
How NOT to series
If your race has things like the following things, your article runs the risk of being vandalized.
Updates!
CMDKeen is now a wiki adim!
Aliens
Hyxera (no article)
Vargins (no article)
Humans
NPCs
Unless you reclaim your race, your race is an NPC race. NPC races still exist, but don't get the repsect player races do and are just there because welll... This is a galaxy builder after all.
Nebulae and other things that group stars
Phenomena